30+ years of helping you find your favorite pair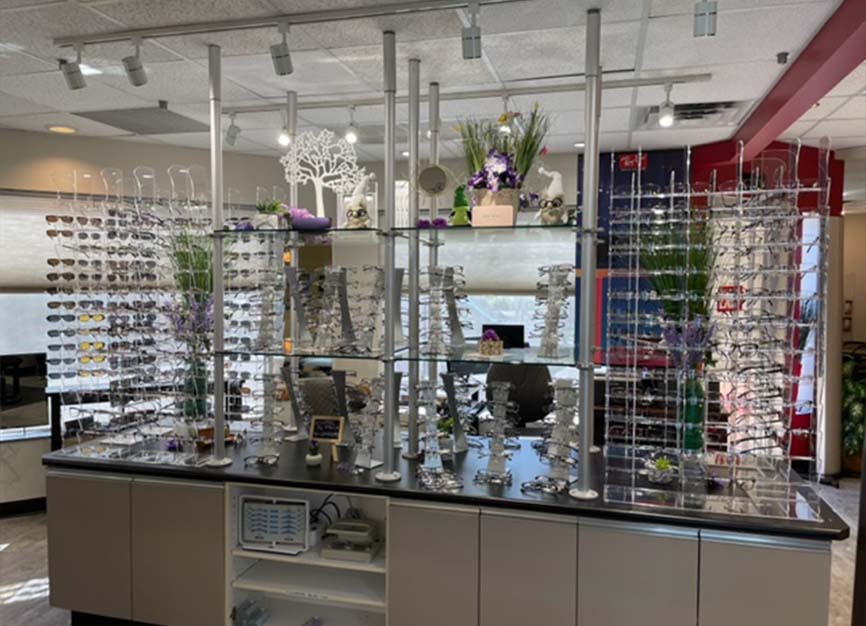 It is our goal to assist patients to find the frame style that fits their personality and the type of lens which works best for their needs.

At Dr. Joslin, Dr. Morin & Associates, we are committed to helping you find spectacles that can provide you with the clearest vision possible without sacrificing comfort or budget. When you visit our spectacle dispensary, you can rest assured of finding the right fit of glasses, well suited to your taste and budget. Call us or schedule online today to book an appointment.
Glasses Most Suited to Your Needs
From our range of frames, you can select one (or multiple!) that are ideal for your requirements. We can assist you in selecting a pair that complements your face shape, from classic to unique, as we have a broad range frame designs in our inventory. We look forward to assisting patients by suggesting a pair of frames and high-quality lenses that help them see clearly, meet their needs and of course, look fabulous!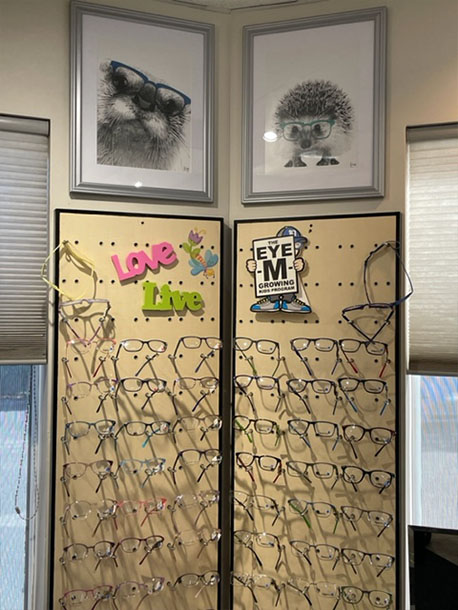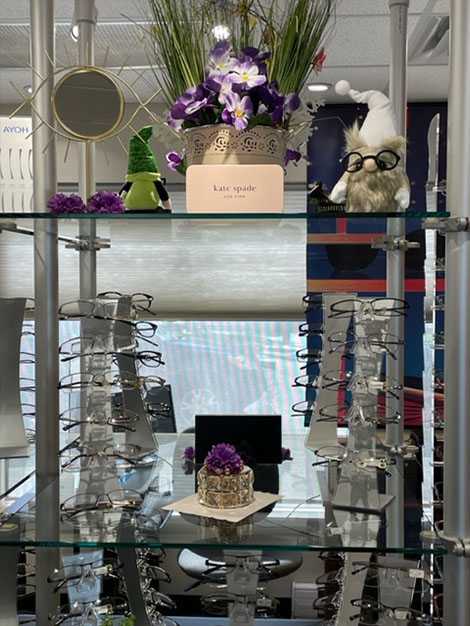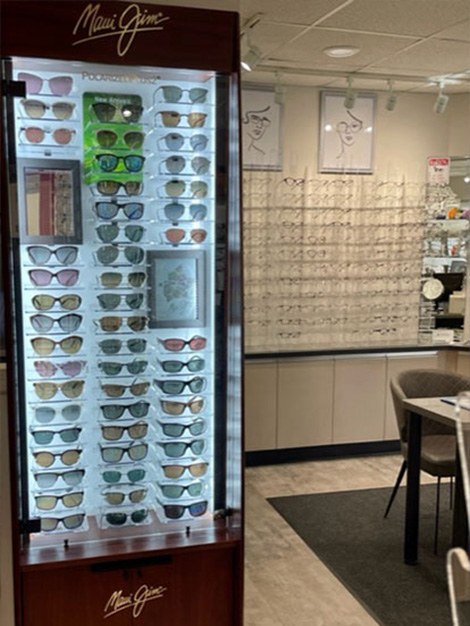 Professional Optical Services
When you visit us, you get the following:
Designer frames, Price conscious frames & everything in between: We know that not everyone has the same budget to work from. We pride ourselves in the selection we are able to provide, serving all members of our community.


Prescription glasses: We provide you with personalized prescription glasses after a thorough eye examination. Our optical dispensary takes advantage of the latest technology for precision lens measurement. This allows us to provide the most innovative wavefront design lenses. As an independent optometric practice, we are also able to select the widest range of eyewear, offering products not available in chain or online stores.


Eye examinations: By utilizing of state-of-the-art technology in our field, we are trained to operate equipment that can help in identifying conditions, diseases or complications regarding your eye health and vision, efficiently and expediently.
Call us or book online to schedule your comprehensive eye examination.

Our Brands
We use the latest technology Single Vision, Progressive, Bi-Focal, Tri-Focal Lenses & Coatings from brands such as Essilor, HOYA, and Transitions & Crizal.
We also carry: Safety Glasses, Computer or Specific Task Glasses, Frames for Children, Prescription Sunglasses (& Non-Prescription), Swim Goggles & Diving masks, Reading Glasses, Low Vision Aids, Fitovers, Clip-On Sunglasses and eyeglass accessories (such as cords, glasses cleaner & cloths).
Reliable Eye Care
We can provide you with a range of styles and designs in our spectacle dispensary.
Call Us Today
Legal Notice
The information below applies to all the information contained on the langfordoptometrists.com Website.
The users of this Website agree to comply with the terms set out below.
TERMS OF USE
Dr. Joslin, Dr. Morin & Associates owns and operates a Website at langfordoptometrists.com (hereinafter referred to as the "site" or "Website"). Dr. Joslin, Dr. Morin & Associates® trademark except as otherwise noted on the site, which is accessible to all users (hereinafter referred to as the "user" or "users"). Refrain from using this Website unless you agree to comply with the conditions.
RISKS ASSOCIATED WITH INFORMATION
Information on this Website is intended for informational purposes only and has no contractual value. Dr. Joslin, Dr. Morin & Associates reserves the right to modify the content of this site. At any time, without prior notice. Dr. Joslin, Dr. Morin & Associates assumes no liability for errors or omissions in the content of this Website or for information reliability or completeness of said information.
Information published on this Website is based on marketing, statistical or commercial services or other sources the Dr. Joslin, Dr. Morin & Associates considers reliable and are the sole responsibility of their authors and not of Dr. Joslin, Dr. Morin & Associates. We do not assume any liability for the accuracy or completeness of said information and in no circumstance should this information be regarded as such. Opinions and information as presented on this site reflect our position as of the date of publication and are subject to change without notice.
UPDATING OF THE WEBSITE UNDER THE RESPONSIBILITY OF Dr. Joslin, Dr. Morin & Associates
Dr. Joslin, Dr. Morin & Associates, its employees and directors will not be liable for damages incurred as a result of the information published on this site, for the views and advice published, expressed or implied regardless of its nature.
Dr. Joslin, Dr. Morin & Associates expressly refuses any and all responsibility for the manner in which the user of the site may use the information contained, in any decisions that may be made and in the actions that may or may not be taken based on said information.
COPYRIGHT PROTECTION
Presentations made and contained on this site are the intellectual property of Dr. Joslin, Dr. Morin & Associates. Reproduction in whole or in part of this site on any other medium in prohibited without the express permission of Dr. Joslin, Dr. Morin & Associates.
User may solely use the information contained on this site for personal use. Reproduction in whole or in part of said information on paper may only be performed for personal use. Said information is not to be copied, distributed or transmitted to third parties nor may it be inserted in a document or other medium.
HYPERTEXT LINKS
The links to external Websites and their content shall not be prejudged and Dr. Joslin, Dr. Morin & Associates will in no way be held responsible for any direct or indirect prejudice that may result from gaining access to and usage of said sites.
CONFIDENTIALITY
Dr. Joslin, Dr. Morin & Associates draws the attention of the user to the fact that all communication transmitted through this Website remains in the public domain and not the private domain. OSI cannot accept responsibility for the security of the transmission of information.
The confidentiality and integrity of the information circulating over the internet cannot be ensured. Dr. Joslin, Dr. Morin & Associates cannot accept responsibility in the case that data contained on this site is intercepted.
Dr. Joslin, Dr. Morin & Associates site uses cookies. These cookies are small text files saved on the hard disk of a user's computer. These files are completely harmless and cannot contain viruses. These cookies are used to analyze visits to the site. Dr. Joslin, Dr. Morin & Associates calls upon Google Analytics to help track how users use the site. The number of visitors, path taken to access the site and length of each visit are measured. The cookies cannot, in any way, identify the user. All data is completely anonymous and compiled solely for the purpose of improving the site and tailoring the content to the needs of its visitors.
VIRUSES AND TECHNICAL GLITCHES
Dr. Joslin, Dr. Morin & Associates makes no representations that the content of this site is free of infections, viruses, worms, Trojan horses and/or other codes with contaminating or destructive properties. It is the user's responsibility to take protective measures.
Dr. Joslin, Dr. Morin & Associates DECLINES ALL RESPONSIBILITY IN THE EVENT OF ANY INTERRUPTION OR NON-AVAILABILITY OF THE SERVICE
Under no circumstances shall Dr. Joslin, Dr. Morin & Associates be held responsible for transmission errors of any sort, such as loss of or damage to data, or changes of any type whatsoever, including direct or indirect damage resulting from the use of the services provided on this site.
JURISDICTION
This Agreement shall be governed by and construed in accordance with the laws of the province of British Columbia. Any dispute arising of this Agreement shall be brought before the court in the judicial district of Dr. Joslin, Dr. Morin & Associates's head office.
Address:
#105-814 Goldstream Avenue, Victoria, B.C. V9B 2X7;
Tel: (250) 474-4567.
PUBLISHING FIRM
Dr. Joslin, Dr. Morin & Associates
#105-814 Goldstream Avenue, Victoria, B.C. V9B 2X7
Tel: (250) 474-4567